The Forest of Dean is an awe-inspiring landscape and as such has featured in many productions on both the small and the silver screen.
Here we will take you on a whistle-stop tour of just some of the locations you may recognise and tell you about the tv shows and movies that were filmed in and around this area.
During your stay with us, you may wish to discover these dramatic locations yourself by following the Forest of Dean & Wye Valley Film & TV Tourism Trail; you can download your copy of the map here.
Big Screen Blockbusters.
There have been several movies that have been shot on location here in The Forest of Dean and The Wye Valley, some of which may surprise you:
The Secret Garden (2020)
The classic children's story about an orphan girl who is sent to live with her uncle and discovers a secret garden behind a locked door on his estate. This fourth telling of the story stars Colin Firth and Julie Walters, in the film, part of the garden that orphan Mary discovers is actually Puzzlewood.
King Arthur: Legend of the Sword (2017)
The myth, the legend, the fable, the true story. Whichever way you view the story of King Arthur, you are sure to be familiar with it. It has been told countless times and in countless ways, this version stars Charlie Hunnam and Jude Law and documents the early days of Arthur's life and his discovery of Excalibur. Several locations around the Forest of Dean and the Wye Valley were used for filming this particular version of the story including King Arthur's Cave near Symonds Yat, the cliffs at Lancaut and the River Wye itself.
The Huntsman: Winter's War (2016)
This prequel and sequel to Snow White and the Huntsmen sees Queen Ravenna's younger sister Freya discover her powers and become the Ice Queen when her partner murders her child and her heart freezes. The Ice Queen then builds her own kingdom and orders that all new parents be murdered, and their children are taken and trained as her huntsmen. The film has a stellar cast starring Emily Blunt, Chris Hemsworth, Charlize Theron, Liam Neeson, Nick Frost, Rob Brydon, and Sheridan Smith. Many of the key scenes and ultimately most of the trailer, were filmed at Puzzlewood.
Star Wars: Episode VII: The Force Awakens (2015)
This film is set thirty years after The Return of the Jedi which depicted the fall of the Galactic Empire, it follows a mix of old and new characters in their fight against a new foe; the First Order. Starring Harrison Ford, Mark Hamill, Carrie Fisher, Adam Driver, Daisy Ridley, John Boyega, Oscar Isaac, Lupita Nyong'o, and Andy Serkis, this is another in the list that used Puzzlewood as a location for filming, this time standing in for the forest of Takodana. Co-Producer, Kathleen Kennedy described it as "the most magical forest on the face of the earth!"
Harry Potter and The Deathly Hallows Part One (2011)
It is no surprise that the Forest of Dean was used as a filming location for Harry Potter as J.K. Rowling herself has a strong connection with the area. She lived in Tutshill on the outskirts of Chepstow as a teenager and attended Wyedean Comprehensive School in Sedbury. In one of the books she names a Quidditch team the Tutshill Tornadoes and Hermione tells Harry that she used to holiday in the Forest of Dean with her parents before she joined the wizarding world.
In the Deathly Hallows Part One, we follow Harry, Ron, and Hermione on their travels as they try to locate Lord Voldemort's Horcruxes in an effort to defeat him. During this pilgrimage, Harry, Ron, and Hermione make camp in the Forest of Dean after they escape a Death Eater who followed them to Grimmauld Place, they stay for a while to allow Ron chance to recover after being splinched, this scene was filmed at Coppett Hill, near Goodrich.
Hits from the Small Screen.
The Forest of Dean and the surrounding Wye Valley are regular backdrops on television and have been since at least the seventies. In more recent years, Netflix has used the area to film for several of their original productions. You have probably seen the area appear during some of your favourite family shows as well as some darker themed offerings. Here is a rundown of just some of the shows and the locations they have been filmed in.
Cursed, Netflix (2020)
Another visit to the legend of King Arthur, this time from the perspective of Nimue who will go on to become the Lady of the Lake. Cursed tells the story of her quest with a young Arthur to deliver Excalibur to Merlin. Locations for the filming of this series include the popular filming location of Puzzlewood and Clearwell Caves.
His Dark Materials, BBC, and HBO (2019-2020)
Based on the Philip Pullman novels, the second series of this fantasy multi-world adventure follows Lyra as she searches for her missing friend and uncovers more kidnappings and a mysterious substance called Dust. The series was filmed in the Forest of Dean and one of the stars, Lin-Manuel Miranda, tweeted "We filmed it in The Forest of Dean. It really was the most beautiful week."
Sex Education, Netflix (2019-2020)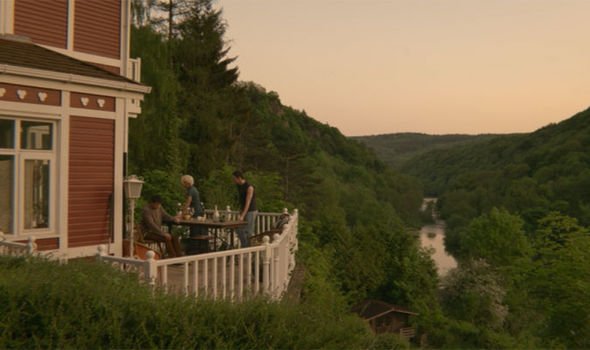 This popular show is a coming-of-age comedy-drama telling the story of Otis and his sex therapist mother Jean. Series one and two have already been massive hits and series three has been confirmed but no release date has been announced yet. The entire show was filmed in and around the Forest of Dean and the Wye Valley with almost too many locations to name, but we will have a go! Otis and Jean's home is a real house overlooking Symonds Yat, Aimee's home is Bigsweir House in St Briavels, Maeve's home is a caravan park in Ross-on-Wye, the Dean Forest Railway appears in multiple scenes, Redbrook Bridge which crosses the River Wye also features, various woodland scenes in both series were filmed in a selection of locations around the forest, there were also a handful of locations in Monmouthshire that were used for filming.
The End of The F***ing World, Netflix (2019)
This dark comedy tells the story of James, a teenager who kills animals for fun. He then decides he wants to kill a human, so he selects one of his classmates, Alyssa. She has had a troubled life herself, so they decide to run away together, her hoping for an adventure and him hoping to find an opportunity to murder her. During series two, Alyssa is working in a woodland diner which was constructed specifically for the show in the woodlands near Speech House.
Doctor Who, BBC (2005-2013)
This classic needs no introduction and even if you don't watch it you will know what it is about. Most of the filming takes place in studios in Cardiff however the Forest of Dean and the Wye Valley have been used multiple times featuring various Time Lords when on-location shooting is required. Sites such as Puzzlewood, Clearwell Caves and Beechenhurst have all appeared several times in different episodes.
Tree Fu Tom, CBeebies (2012-present)
Those of you with small children will no doubt remember the opening and closing sequences where human Tom transforms into animated Tom and then back to human Tom, this sequence was filmed at Puzzlewood.
We hope you have taken as much joy in reading this blog as we did while researching and writing it. We cannot wait to welcome you on your stay to discover the area soon, bookings are now being taken for tourism stays from 22nd March 2021 onwards. Make sure you follow us on Instagram where you will be able to see our stunning rooms and start to plan your stay.