We are extraordinarily lucky to have a huge variety of quality suppliers here on our doorstep in the Forest of Dean. None more so than Huntsham Farm where Richard Vaughan has established a formidable reputation for his outstanding quality Beef, Pork and Lamb. We asked Richard if he could shed some light on how he has achieved this feat: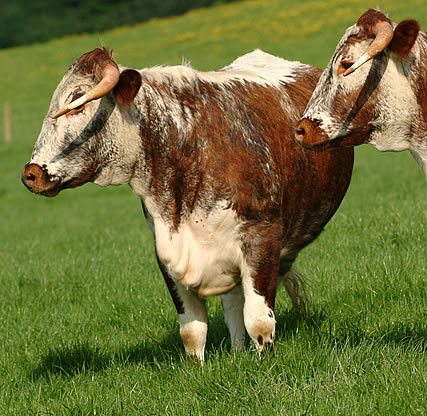 Q: What produce are you most famous for?
A: Our regular Middle White pork was used in 2018 in Macau for the 50 best Restaurants in Asia and about three years ago our 55 day aged Middle White pork was used for the 50 best restaurants in the world. Our Middle White suckling pig enabled a local chef to twice get all four judges on The Great British Menu to score him 10 out of 10. Middle White is an exceptional pork pig and the way we treat our animals giving them a great life goes to produce the very best pork.
Heston Blumenthal chose our Longhorn beef after a taste test panel for his television series "Perfection".
Our Ryeland lamb was wanted for a lunch for the French President – Nicolas Sarkozy on his state visit to Britain with Carla Bruni. He never eat it because the chef discovered two days prior to the lunch that the Queen was giving him lamb at Windsor the night before.
A two star Michelin chef said that our Middle White sausages would help him to raise his game.
Q: What makes it so special?
A: The starting point in the pursuit of excellence is the breed of animal – they are all different – and then the love and care they are given to ensure they have a great life before giving us fabulous meat. The hanging and butchery then add to making something special
Q: How long have you been producing it?
A: I have been farming 50 years and 20 years ago started a business trying to produce meat like the great chateaux of the world produce wine. This we sell direct to the end user cutting out all the people in the middle so I like to think we are offering Premier Grand Cru at Cru Bourgeois prices.
Q: Why is your produce important to the area?
A: My farm now give jobs to 16 people where as with modern farming it could hardly support one family.
Q: Apart from your own, what is your favourite local produce?
A: Severn and Wye smokery have some lovely fish
Q: Can you give us a little known or quirky fact about either your own produce or produce from the area?
A: Middle White sows are rarer than Giant Pandas with about 350 sows in the country and we have between about a third of the national heard.